Maharashtra's share begins to fall in India's Covid-19 count | India News
NEW DELHI:
Maharashtra
, the worst-hit state, has been driving up the country's
Covid-19
count for many weeks now. However, the state's share of cases in the country is now dropping, trends in the last six days of May indicate.
Maharashtra accounted for 35% of the total cases in the country from May 26 to 31, down sharply from 43% in the previous six days and 41% in the six-day period before that. The reason for the drop seems to be two-fold. One, Maharashtra's count of daily cases, although still way higher than any other state, appears to have plateaued since May 22. And two, infections reported in the rest of the country have risen sharply, particularly since May 26.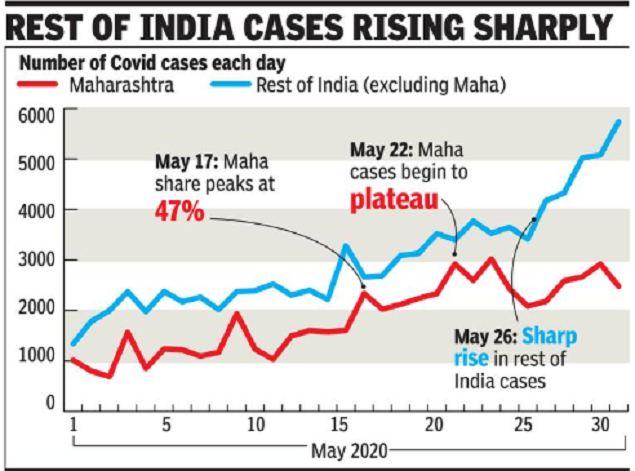 On May 22, Maharashtra reported 2,940 new Covid-19 cases, its highest single-day count till then. Its share in countrywide cases on that day was 46.4%. Since then, Maharashtra's daily number of cases has seen one new peak — 3,041 on May 24 — but has otherwise stayed between 2,100 and 3,000. Daily cases in the rest of the country (excluding Maharashtra) have seen six peaks during the same 10-day period.