Interactive Space Posters : Curiscope's Multiverse posters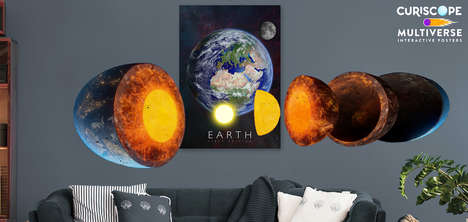 Curiscope's Multiverse posters come to life with Augmented Reality. Consumers can simply point their phone or tablet at the posters and interact with the planets in detail: explore hotspots, satellites and examine the interior with a voiceover guide.
Consumers can choose from the Solar System, Earth, Mars and the Moon. All posters are A1 high quality litho prints that are fully recyclable, and what's more is that for every poster sold, Curiscope will be planting a tree as part of their climate initiative program.The augmented reality posters are perfect for kids learning at home and also as beautiful, innovative artwork for the walls.