Video Chat Crashing Donkeys : Peace N Peas Farm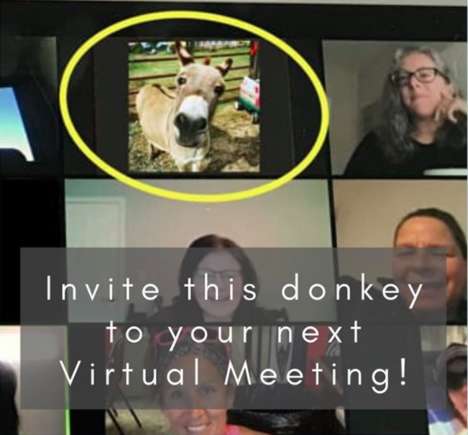 The mundane video-chat conferencing calls many are forced to hold in the wake of the COVID-19 pandemic can now be upgraded thanks to a special donkey at Peace N Peas Farm.
The 8-year-old miniature donkey, named Mambo, can now be rented out to attend company conference calls to add a spark of joy to the meeting. According to Francie Dunlap, Mambo's owner, the camera-friendly donkey is "like a pesky little brother" that "doesn't let anyone relax too long."
Pean N Peas Farms also lets customers virtually rent out other animals from the including three horses — Heeren, Zeus, and Eddie — as well as chicken and ducks. Consumers can book online to reserve a 10-minute virtual meeting for $50 USD.
Image Credit: @peace_n_peas_farm/Instagram